​​TRX-4 Sport Scale Crawler Truck 1/10 Kit
Watch this product and we will notify you once it is back in stock.
​​TRX-4 Sport Scale Crawler Truck 1/10 Kit
TRX-4 Sport Scale Crawler Truck 1/10 Kit
The Traxxas TRX-4 Sport is purpose built for trail-conquering RC fun with innovative technical features and rugged durability. The new TRX-4 Sport Unassembled Kit combines all the technical capability of the RTR truck, with the excitement of building your own kit. The TRX-4 Sport Kit assembles to form a roller chassis without electronics, battery, or charger. From mild to wild, enjoy ultimate build-it-yourself freedom to add your own motor, electronic speed control (ESC), servo, and radio system to the highly competent chassis. All the parts are organized neatly in labeled bags with pre-assembled shocks and suspension links. A fully illustrated color manual makes the kit as much fun to construct as it is to take off-road.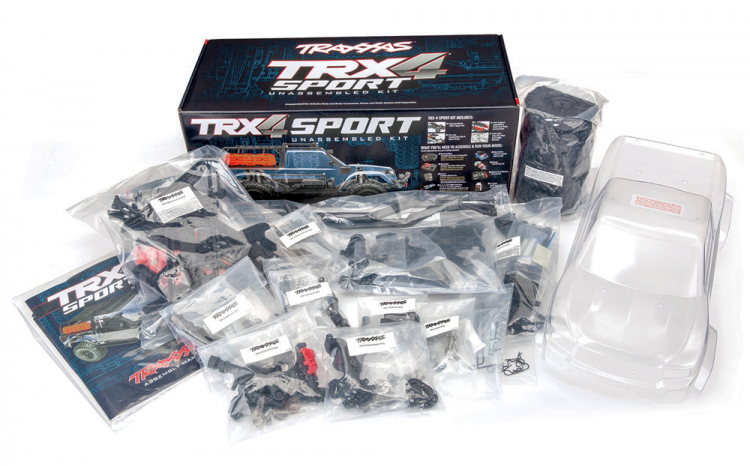 WHAT'S INCLUDED IN THE KIT:
Unassembled TRX-4 Sport Kit
Pre-cut clear TRX-4 Sport body
Expedition Rack with scale accessories
Full-color step-by-step assembly manual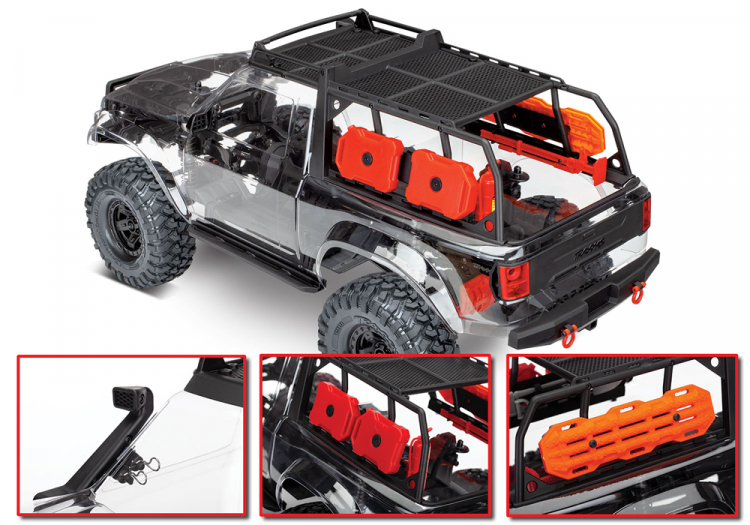 Includes Lots of Scale Accessories!
The Traxxas TRX-4 Sport Kit comes fully outfitted with an entire complement of scale accessories as standard equipment. The expedition rack not only looks great, but provides rugged protection for the body. The body and expedition rack are outfitted with a replica snorkel, side mirrors, traction boards, fire extinguisher, jack, and gas cans for maximum scale detail. The front and rear injection molded grill and tail gate also include lenses to make installing LED lights a breeze!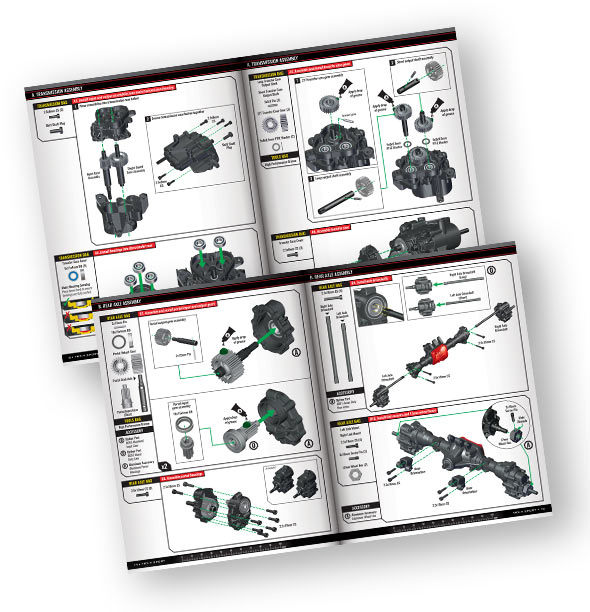 Easy to Follow Assembly Instructions
The TRX-4 Sport Unassembled Kit isn't just for expert hobbyists. Traxxas goes the extra mile to make the full-color instruction book easy to follow and fun to use. Each section corresponds to a labeled bag with step-by-step assembly instructions. True-to-scale part illustrations and ruler charts make it easy to differentiate between different screws, bearings, and gears. Helpful assembly tips and clear illustrations take the frustration out of the assembly process. Have fun on the workbench and on the trail with the new TRX-4 Sport Kit.

WHAT YOU'LL NEED:
Transmitter
Receiver
Electronic speed control and motor
Steering servo
Battery with Traxxas High-Current Connector
6 or 7 cell NiMH battery pack
2s or 3s LiPo battery pack
Battery charger
Metric hex drivers
1.5mm, 2.0mm, 2.5mm
Basic hand tools
Screwdrivers, needle nose pliers
Traxxas Ultra-Premium Tire Glue (part #6468) or CA glue
Safety glasses
Polycarbonate paint
TRX-4 SPORT KIT (#82010-4) SPECS:
Length: 557mm
Width:249mm
Ground Clearance: 80mm
Weight: 2.63kg (with electronics installed)
Height: 241mm
Wheelbase: 312mm
Shock Lengths: 90mm
Approach Angle: 58.82°
Departure Angle: 45.83°
Breakover Angle: 58.93°
Wheels: 1.9 x 1.02" (49 x 26mm)
Tires: 118 x 48mm
Wheel Hex: 12mm
Speed Control: Sold separately
Motor (electric): Sold separately
Differential Type: Spool (no differential)
Transmission: Single speed
Gear Pitch: 32
Chassis Structure/Material: Steel Ladder Frame with Nylon Composite Crossmembers
Drive System: Shaft-Driven 4WD
Radio System: Sold separately
Skill Level: 2
Battery Tray: L158.75 x W47 x H23/26mm