Borstlöst System ESC XR8 Plus 150A Motor 4274SD G3 2250kv
Lägg till en bevakning så meddelar vi dig så snart varan är i lager igen.
Borstlöst System ESC XR8 Plus 150A Motor 4274SD G3 2250kv
Borstlöst System ESC XR8 Plus 150A Motor 4274SD G3 2250kv
Hobbywing XeRun 4274SD G3 2250kV & XR8 Plus ESC Sensored Combo for Buggy/Truck/Truggy
1/8th scale brushless power system with the implementation of a pure signal sensor mode circuit.

Built-in intelligent integrated circuit is used so the sensor unit can easily be identified by the ESC when pairing with Hobbywing's XeRun XR8 series of ESC's the motor will operate in "Pure Sensored" mode at all times, providing a better performance and a smoother throttle response.

1/8 Power System & Turbo Timing technology
It can be used when this motor is paired with Hobbywing's XERUN XR8 series of ESC's the Motor can use the Turbo Timing technology which was designed for the XR10 Pro series of Esc's used in 1/10th On- and Off-road Competition.The motor will increase to maximum power output instantly. The maximum speed will increased by as much as 50% more than the output of the previous G2 series motors keeping you way ahead of the competition.
Please Note: When tue G3 Series motors are paired with XR8 Pro G2 ESC the turbo feature can be set to the maximum of 48°.

The mechanical turbo timing of motor can be accurately adjusted in both directions (CW/CCW)
The mechanical turbo timing can be adjusted between 20-40°. It is convenient for driver to calibrate accurately output power of motor and meet power requirements of various application.

The efficiency is improved greatly, effectively reducing the temperature rise
Compared with XERUN 4268/4274 G2, the motor structure is greatly optimized, the efficiency is improved by 6% or more, which reduces the motor temperature increase effectively (Reducing thermal runaway).

The G3 Series is Fail Safe and reliable using Hobbywings new motor Hall sensor technology
The motor sensor system adopts patented technology of "error-free" Hall sensor technology, with an independent high-speed and high-precision encoder of which will always output a pure and accurate rotor position signal, which effectively will isolate any external interference which are known to cause errors of the sensor signal. This accurate sensor system will allow the motor to function at its peak performance in a very stable sensor state.

Excellent dust proof design
The Off-Road motors are IP5X. Its excellent dust proof design will minimize debris entering the motor which is very well known to effect Off-Road applications.
Note: Only 4268-1900KV/2200KV and 4274-2250KV are IP5X.

Light weight
The design of 4268SD G3 is optimized which reduces the overall weight of motor. The weight of 1900KV / 2200KV is 315g / 285g respectively. And the weight of 4268 motor is 330g, 1900kv / 2200kv is 20g / 45g lighter than peers. The light weight motor is convenient for the driver to adjust the balance performance of the vehicle.

Low rpm (no current) torque
The motor also minimizes the low rpm (no current effect) also known as cogging and small torque pulse. It is very smooth at low rpm increasing its performance at low speeds.

Advanced material in the industry and outstanding product design
Its made out of a single piece of 7075 aluminum bar processed by precision CNC. The CNC Stator case has zero gaps or any screws on the surface of the Can body. There is a silicone dust proof ring seal that surrounds the sensor base. The details show originality.
The front case bell contains two pairs of M3 and two pairs of M4 screw holes, which are suitable for various mounting bases.
The outlet terminals use a widened U-shaped/90° gold-plated curved copper contacts, which have a very low internal resistance which also makes soldering wires to the terminal an ease.
The R-class insulation material is rated at 240°C, the special high-strength adhesive is rated at 340°C, and high quality international well known branded low friction bearings are used to handle extreme loads.
Various specifications and models, covering 1/8th various applications
4274 one version only consists of the 2250KV which is suitable for 1/8 Off-Road recreational and popular with 1/8th Buggy/Truggy competition.
4268 On-Road series features two versions the 2000KV and 2800KV, which respectively are used for 1/8 Pancar and GT.
4268 Off-Road series consists of two versions the 1900KV and 2200KV which respectively are used for 1/8 Off-Road to allow the end user to race at different sized tracks
Motor Specs (4274SD G3):
Application: 1/8 Off-Road Truck/Truggy
Type: Sensored Brushless
Poles: 4
KV Rating: 2250
LiPo Cells: 2-6S
No Load: 5A
Case Diameter: 42mm
Case Length: 74mm
Shaft Diameter: 5mm
Shaft Length: 18.5mm
Weight: 354g
Front Bearing: 5x5x16mm
Rear Bearing: 5x5x11mm
Timing: 20-40° (adjustable)
XeRun XR8 Plus ESC Features:
Built with the most rugged and high-quality components and coupled with cutting-edge firmware, the XR8 PLUS is able to deliver unmatched power and performance for even the most hardcore of racing applications, but is also responsive enough to protect itself from damage due to overloading due to physical abuse, overuse or even human error.
Great Flexibility & Versatility With strong torque and excellent output, the XR8 PLUS can definitely cater for all the power hungry requirements that professional drivers need. The highly adjustable parameters of the ESC will allow drivers to enjoy smooth throttle response when the throttle/brake linearity is utmost required.
High Voltage Built-in BEC The XR8 PLUS is the world's first 1/8th ESC that integrates a HV built-in BEC with an output current of up to 15 Amp and a switchable output voltage of 6V-7.4V. The high voltage BEC is designed to handle today's high voltage servos on demand used by 1/8th scale vehicles.
Ultra-Reliable Cooling System HOBBYWING's patented cooling technology utilizes proprietary heat-conductive copper bars to rapidly and effectively transfer all internal heat from the MOSFET board to the integrated CNC machined billet aluminum heatsink housing. The cooling fan adopts a shockproof mounting which effectively reduces the possibility of fan damage due to vehicle's frequent jumps.
Coasting The XR8 PLUS provides an exceptionally smooth off-throttle coasting function (patent pending), which simulates the feeling of inertia and momentum of a large-scale car driving experience. This can greatly improve the performance of builds utilizing large, high-powered motors as electromagnetic drag becomes a substantial factor in sudden deceleration when in the off-throttle position, adversely affecting driving performance and overall maneuvering.
Advanced and Secure Electronic Switch The XR8 PLUS features an electronic switch with a lifespan of over 50000 on/off cycles, housed in a completely waterproof, dust-proof and shock-resistant design.
Virtually Maintenance Free Operation Because of the exceptional thought and design put into the XR8 PLUS, users can expect a virtually maintenance free operating experience, due to advanced error sensing and thermal protection, an exceptionally rugged housing, the ultimate in heat-dissipation technology and a special shockproof fan mounting able to withstand anything that a racer can throw at it.
High Performance Dynamic Timing Algorithm The world's first 1/8th scale competition ESC which has adopted dynamic timing technology, which has had great successes in 1/10th scale touring car competitions for a long time now, will greatly expand the adjustable power output range of the ESC while still maintaining the overall system efficiency and smoothness.
Specifications
Scale: 1/8th
Brushed/Brushless: BL
Sensored/Sensorless: SD
Waterproof: No
Cont./Peak Current: 150A/950A
Input: 2-6S LiPo/6-18 Cells NiMH
BEC Output: Switch Mode:6V/7.4V,6A
Wires & Connectors
Input Wires: Red-10AWG-200mm*1/Red-10AWG-150mm*1/Black-10AWG-150mm*1
Output Wires: Black-12AWG-200mm*3
Input Connectors: No
Output Connecotors: No
(Note: All the wire length above is the original length not the length you see from the outside.)
Fan
Size: 30.0x30.0x10.0mm
Voltage Range: 5-7.4V
Powered by: Powered by BEC
ESC Programing via
SET Button on ESC: Not Supported
LED Program Box: Not Supported
LCD Program Box: Supported
WiFi Module: Supported
Program Port: FAN/Program Port
Firmware
Firmware Upgrade: Supported
Size & Weight
Size: 58.7x48.0x36.9mm
Weight: 127g
Applications
Motors: SL BL Motors, SD BL Motors
Vehicles: 1/8th Touring Car/Buggy/Truck Competitions
KV Rating/T Count: 4S LiPo: KV≤3000, 6S LiPo: KV≤2400 (40XX Series of Motors)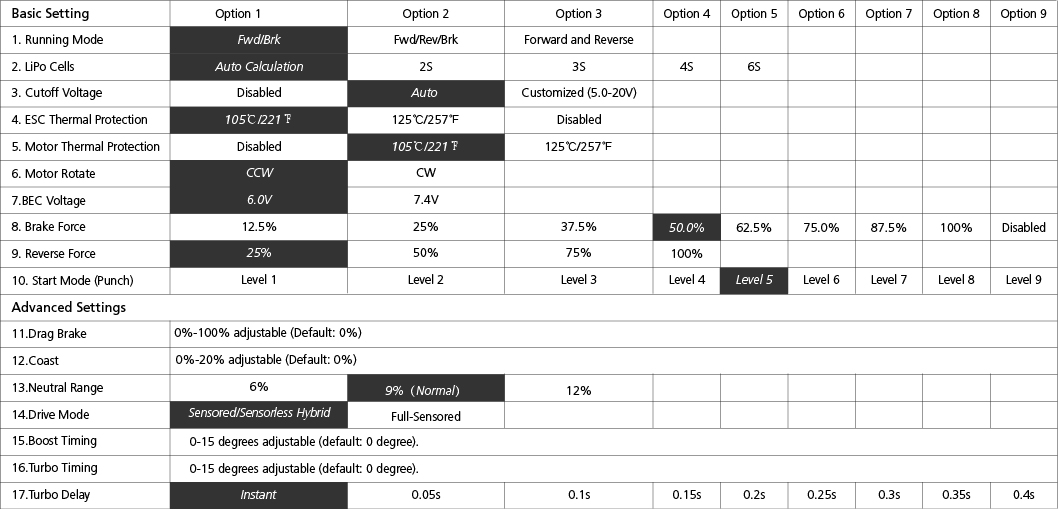 This is an extremely powerful brushless power system. For your safety and the safety of those around you, we strongly recommend removing the pinion gear before performing calibration and programming functions with this system, and keeping wheels in the air when you turn on the ESC.