XeRun XR10 PRO V4 G2 Fartreglage
Välj färg
Lägg till en bevakning så meddelar vi dig så snart varan är i lager igen.
XeRun XR10 PRO V4 G2 Fartreglage
Välj färg
Hobbywing XeRun XR10 PRO V4 G2 Racing ESC 2020
OBS! Det finns ett unikt nummer på Hobbywing XR10 Pro V4 G2. Ett under fartreglaget och samma nummer finns på förpackningen.
Vid eventuell reklamation skall detta nummer ges till oss, antingen att vi kan se det på fartreglaget eller att förpackningen returneras med fartreglaget vid reklamation.
Upgraded M4 Microprocessor (32-bit) for Professional Racing
High-performance 32-bit M4 microprocessor is implemented in the XR10PRO G2 for Super-fast and precise processing of complicated data operations, this allows the ESC to have a very rapid and precise response with extraordinary potential to optimize and extend its functions further. The XR10 PRO G2 is an exceptional piece of Hardware combined with accurate and powerful software makes this ESC into a "Precise weapon" for high end professional racing.

Internal Battery-Reverse Polarity Protection Circuit
With the Built-in Reverse Voltage Protection circuit, ESC's internal parts are all protected from Cross Connection of battery power.
(Note: the overall power system will be protected from damage when non-polarized filter capacitors are used; the standard electrolytic (external capacitors ) supplied for this ESC have no reverse polarity protection, so the capacitors (only) ,not the ESC will be damaged when reverse polarity installation occurs.)

Innovative Dual-Switches / Removable External Switch
Internal electronic switch & external removable switch for easy and convenient usage. The internal switch simplifies wiring while the external switch solves the issue "it's hard to reach the built-in switch when the car body is mounted on or inner chassis placement of ESC". External switch is perfect for off-road applications. (Warning! This is Hobbywing's registered patent)


Updated Drive, and Brake PWM Frequency
More available frequency values (include "Customized PWM Frequencies") for improved tuning options of the drive and brake feel.
Drive PWM:1-32KHz
Brake PWM:0.5-16KHz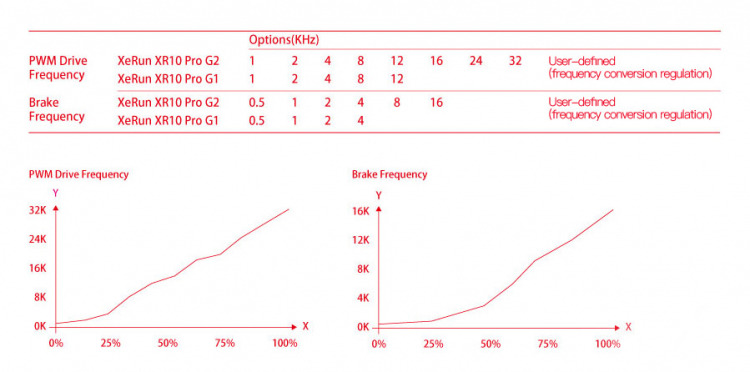 Tunable Turbo Increase & Decrease Rates
More fine tunable values have been implemented for Turbo Increase & Decrease Rates which allows the end user to fine tune the turbo for optimal performance when racing at different size tracks .




Extra Brake Range From 101% to 150%
Updated brake features for more brake power specifically for high turn spec racing applications by vehicles with a very aggressive gear ration/FDR.

Switchable Motor Direction
Switchable motor direction: CCW & CW for various chassis.

Internal Super BEC
Built-in switch mode BEC with a maximum output of 10A and voltage adjustable from 5V to 7.4V (step:0.1V) for usage with high voltage servos.
(Note: the overall power system will be protected from damage when non-polarized filter capacitors are used; the standard electrolytic (external capacitors ) supplied for this ESC have no reverse polarity protection, so the capacitors (only) ,not the ESC will be damaged when reverse polarity installation occurs.)
Softening Function (Hobbywing's Patented Technology)
Softening function implemented in this ESC allows user to fine-tune the bottom end allowing for maximum controlled power of vehicles used in Modified class racing applications.

Programming/Upgrading/Data Reading Wirelessly
With Hobbywing's "WiFi Express" module and iPhone or an Android phone (with the Hobbywing WiFi Link App installed), users can remotely program parameters, upgrade firmware and check relevant data of the ESC without leaving the control stand.

Data-logging Function
This ESC features the data-logging function which can record the maximum ESC/motor temperature, RPM and etc. in real time and allows users to check those data via a LCD program box or WiFi module after each use. In the future, new (ESC) firmware will not only record the maximum temperatures, RPM and others but also provide complete operation (status) curve for us.

New Optional Accessory Items
Accessories like non-polarized capacitor banks and oversized fan mounts can be purchased for the XR10 Pro G2 ESC. With these high tech SMT-MLCC capacitor banks, neither the ESC nor the capacitor bank will be damaged when reversal of polarity connections during installation of batteries occurs. CNC oversized fan mounts in 3 colors (black, red and orange) are also available to allow the mounting of the 30mm (3010) fan to maximize cooling during high ambient temperature and humidity race days.

Specifications:
Scale: 1/10th
Brushed/Brushless: Brushless
Sensored/Sensorless: Sensored
Waterproof: No
Cont./Peak Current: 160A/1200A
Input Voltage: 2S LiPo/5-6 Cell NiMH
BEC Output: 5V-7.4V
Input Wires: 12AWG 200mm
Output Wires: 12AWG 200mm
Input Connectors: No
Output Connectors: No
Size: 37.5 x 30.9 x 32.5mm
Weight: 95g
ESC Programing via:
SET Button on ESC: Not Supported
LED Program Box: Not Supported
LCD Program Box: Supported
WiFi Module: Supported
Programming Port: Separate
Firmware Upgrade: Supported
KV Rating/T Count With 2S LiPo:
1/10 Touring Car ≥ 4.5T
1/10 Buggy ≥ 5.5T (3650 Motor)
Motors: Sensorless BL Motors / Sensored BL Motors
Vehicles: 1/10 Touring Cars & 1/10 Buggies for Racing


Software Downloads through the USB LCD Box:
http://www.hobbywing.com/article.php?id=162





Software Updates through USB Wifi Express Link:
http://www.hobbywing.com/article.php?id=212


Programmable items: