Traxxas X-Maxx 8S 4WD Brushless TQi TSM
Utan batteri o laddare
Traxxas X-Maxx 8S 4WD Brushless TQi TSM
Utan batteri o laddare
Get Ready to Experience the Most Powerful Ready-To-Race® Monster Truck on the Planet!
Unrelenting 4X4 power, mammoth size, and award-winning innovation make X-Maxx the ultimate monster truck. With 30+ volts of extreme 8s power, X-Maxx defies physics, unleashing jaw-dropping acceleration and 50+mph speeds. Engineered to conquer the most extreme terrain and take brutal real-world punishment in stride, X-Maxx is the definition of Traxxas Tough™.
Size Wins
At the end of the day, size always wins. X-Maxx plows over obstacles and muscles through extreme terrain that leaves lesser trucks stranded. Mammoth 8-inch tall tires, long-arm suspension, and huge ground clearance dwarf the surroundings for virtually unstoppable monster truck fun.
Extreme Power
At Traxxas, too much power is never enough! The durability of the new VXL-8s is matched only by the sheer ferocity of its 8s 30+ volt dual LiPo muscle. The speed-tuned 1200XL Big Block™ motor propels X-Maxx with brutal authority and exacting quickness that warps your senses. No matter what you have driven in the past, nothing will prepare you for X-Maxx.
Maxx-Duty Drivetrain
X-Maxx puts the power to the ground through tough all-steel drivetrain gears, the revolutionary Cush Drive system, and our strongest driveshafts ever. The all-new Torque-Biasing Center Drive improves driveline durability and drives larger module ring and pinion gears on the toughest differentials we have ever produced.
Innovation
Insightful engineering and precise integration of innovative solutions set X-Maxx in an all-new category of superior performance. It's as satisfying and rewarding to use as it is fun and exciting to drive.
Specs:
Length: 779 mm
Front Track: 540 mm
Rear Track: 525 mm
Ground Clearance: 102 mm
Weight: 8.66 kg
Height (ride): 350 mm
Wheelbase: 480 mm
Shock Length: 187 mm
Tires (pre-glued): W101 x D203 mm
Wheels: 110 x 145 mm
Speed Control: Velineon VXL-8s
Motor (electric): Velineon 1200XL
Transmission: Single-Speed
Overall Drive Ratio: 8.11 (stock, out-of-box)
Differential Type: Sealed, Hardened Steel Bevel, Limited Slip
Gear Pitch: 1.0-Pitch
Chassis Structure/Material: Composite Nylon Tub
Brake Type: Electronic
Drive System: Shaft-Driven 4WD
Steering: Bellcrank
Radio System: TQi™ 2.4GHz Transmitter with TSM receiver™
Servo: Torque: 365oz - Speed: 0.17 sec/ 60 degrees (6.0V)
Top Speed: 80+ KMH with two 4s LiPo batteries and optional pinion gear
Skill Level: 6
Battery Tray: 197 x 51.5 x 44 mm
Required: 4 "AA" (transmitter), 2x 4S LiPos with iD & EZ-Peak Live Charger
Motor Specs:
Type: 1275 kv Sensorless Brushless
Weight: 665 g
Length: 110 mm
Diameter: 48 mm
Connector Type: Traxxas 6.5 mm Bullet Connectors
ESC Specs:
Input Voltage: 4s – 8s LiPo (Max 33.6 Volts)
Case Size: 58 x 72 x 46 mm
Weight: 161.4 g
Motor Connectors: Traxxas 6.5 mm Bullet Connectors
Battery Connectors: Traxxas High-Current Connectors with iD™
Power Wire: 10-gauge Maxx Cable
What's In The Box:
X-Maxx, Ready-To-Race® model with Traxxas Big Block™ brushless motor
VXL-8s waterproof electronic speed control
Quick Start Guide
TQi™ 2.4GHz radio system
High quality maintenance tools
What You'll Need:
Batteries: IMPORTANT: X-Maxx requires the use of LiPo batteries equipped with Traxxas High Current Connectors. Traxxas 4-Cell, 6700 mAh or greater, Power Cell LiPo batteries with iD are recommended (part #2890X).
LiPo Balance Charger with iD™: Traxxas EZ-Peak Live 4s-capable charger is recommended for easy and fast charging performance (model #2971).
AA Alkaline Batteries: Four AA alkaline batteries for the transmitter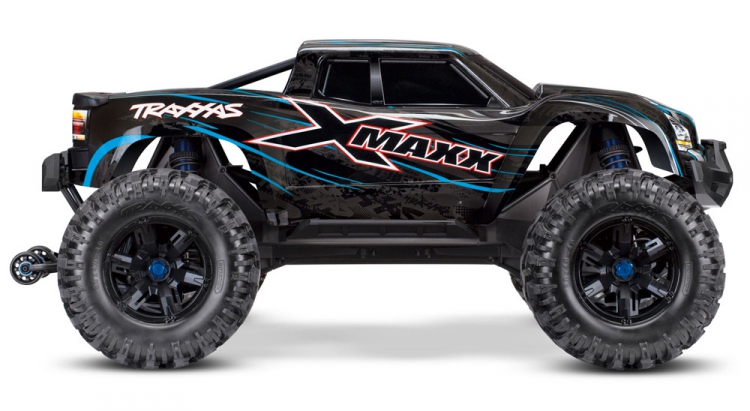 Lägg till en bevakning så meddelar vi dig så snart varan är i lager igen.